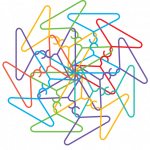 The 49th Dimitria Festival is a work site: this historic institution is used as a tool, event venues are turned into participatory platforms and the limits of the festival experience are tested.
The programme is filled with international and Greek participants; it is rich, dense, and interactive, covering a wide range of aesthetic exploration and artistic genres. The Dimitria Festival invites citizens to this great celebration, which falls in line with acquits and concerns of our times, times that are a hybrid, nomadic, cosmopolitan and extremely pluralistic.
Through the utilization of three new municipal buildings, each with unique characteristics – (former) Maison Crystal, Sfageia (Abattoirs), and Villa Petridis – the 49th Dimitria Festival aims at strengthening the cultural infrastructure of the city while promoting an alternative use of each venue as a platform for innovative artistic proposals, a synergy that favors artists and artistic mobility.
Capitalizing on the momentum of festival events, the infrastructure of the Municipality, regarding both buildings and services, is being tested so that this top cultural institution stays a course that is creative, imaginative and bold.
We hope that citizens and the audience of the festival will respond to this invitation – challenge and will become true participants, by creatively 'residing' in the actual event venues, the architecturally planned public spaces, the conceptual public debate forum for their own Dimitria experience, as well as the broader conceptual forum created by an arts festival.